Get inspired to explore
Some of the world's most experienced motorcycle adventurers reveal this year's hottest two wheel destinations and crucial travel tips at the Devitt Insurance MCN London Motorcycle Show. Whether it's a long weekend in the Peaks or organising the epic global trip of a lifetime, it's essential to get advice from the people who've been there and done it. The Adventure Travel Stage, sponsored by Caberg, at this year's Devitt MCN London Motorcycle show will be packed with experts who have first hand experience across a wide spectrum of two wheel travel so no matter what level your ambition or experience is, you'll get the very best advice imaginable. Here's some of the fascinating experts who'll be sharing their knowledge on the Adventure Travel Stage sponsored by Caberg, at the Devitt Insurance MCN London Motorcycle Show on February 17-19.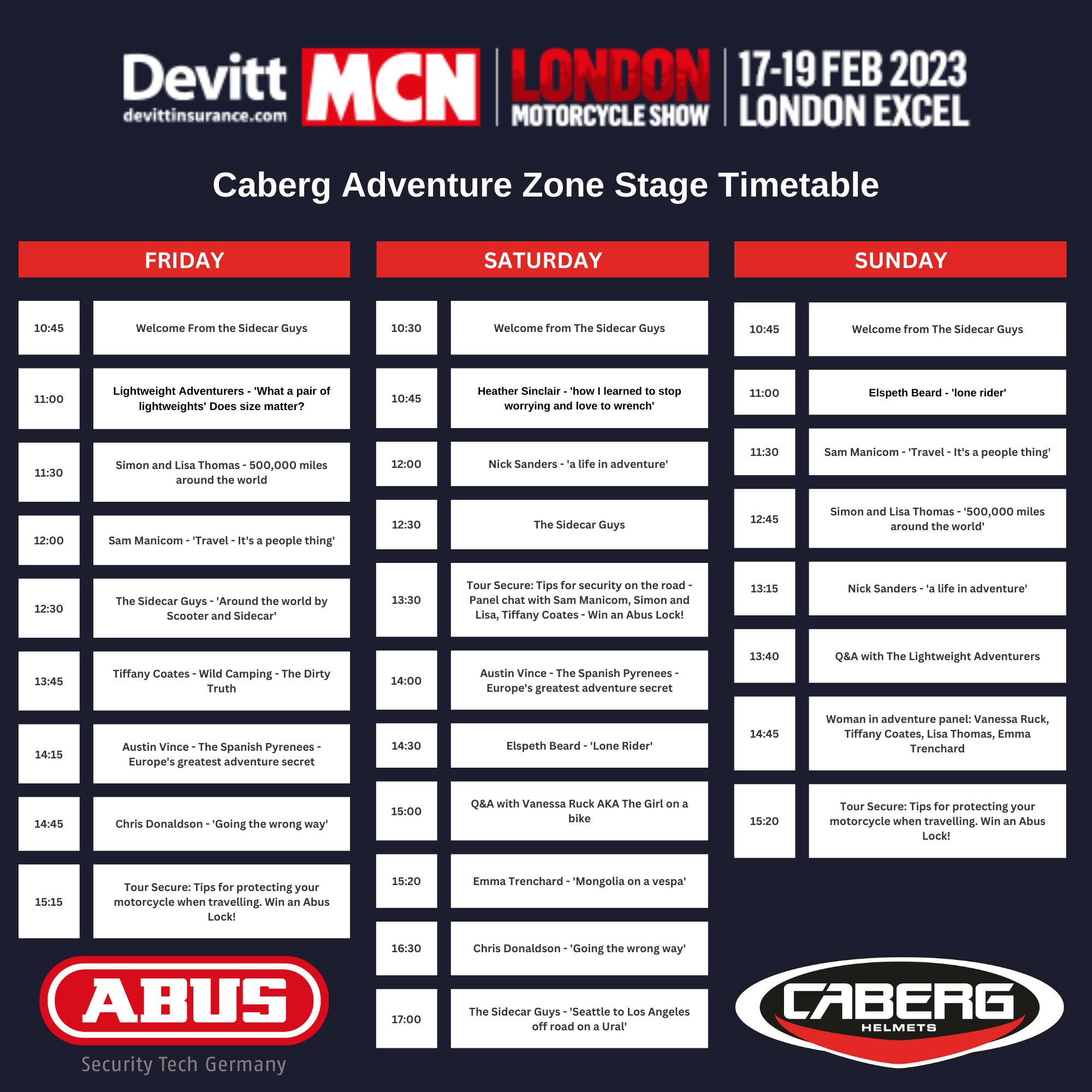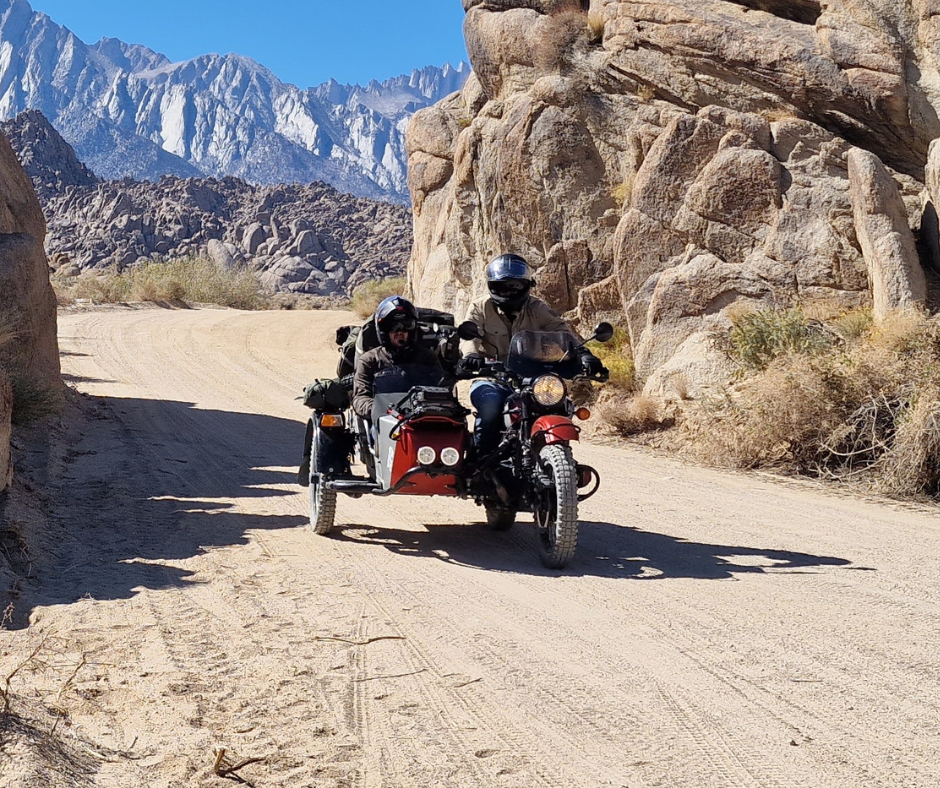 Matt Bishop and Reece Gilkes aka 'The Sidecar Guys'
Matt Bishop and Reece Gilkes aka 'The Sidecar Guys' will host this year's Adventure Travel Stage, sponsored by Caberg. They are called 'The Sidecar Guys' as they hold the very niche Guinness World Record for the longest journey by scooter and sidecar. During a 15-month trip they travelled for 34,000 miles through 35 countries and 5 continents to successfully circumnavigate the globe by scooter and sidecar. They still do all sorts of different three wheeled adventures and recently completed a 10-day trip from Seattle to Los Angeles on a Ural motorcycle and sidecar mainly travelling off road across Idaho, Nevada and California. They run a sidecar experience centre in the UK and are also the hosts of The Armchair Adventure Festival, a festival based in the UK with the soul focus of celebrating any kind of adventure travel.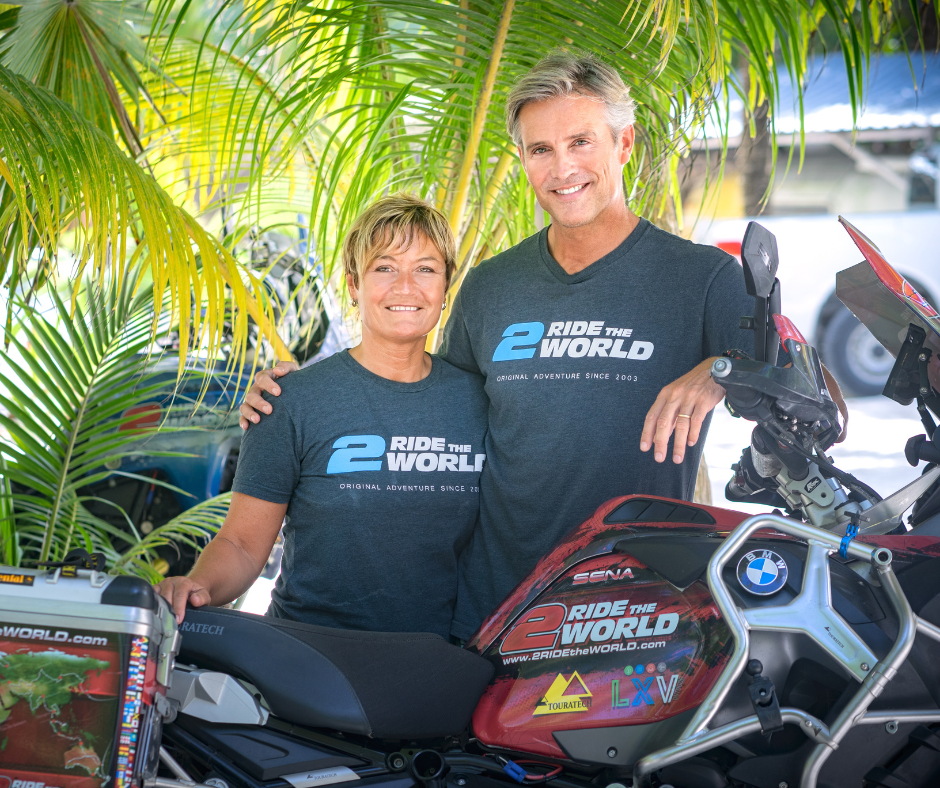 Lisa and Simon Thomas
Lisa & Simon Thomas AKA '2 Ride the World' first went out to ride around the world in May of 2003 and have since ridden an insane 500,000 miles! They've survived a broken neck and malaria in the Amazon, being shot at in Russia, traversed 36 deserts, and were threatened with expulsion having been wrongfully accused of kidnapping a President's son. After 17 years on the road they've got a few stories to tell.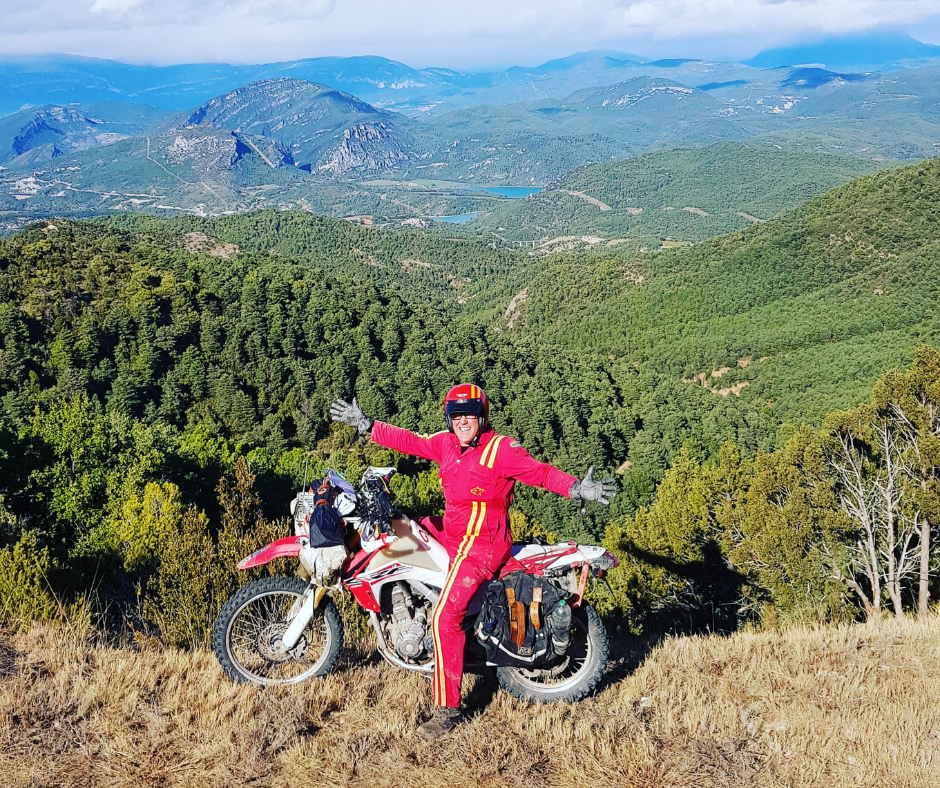 Austin Vince
The man behind the cult movies Mondo Enduro and Terra Circa. It all started back in 95' when Austin and co set out to ride around the world by the longest route possible on their second hand Suzuki DR 350s. All in an age before mobile phones, the internet and obviously, totally unsupported. In his spare time Austin is the curator of The Adventure Travel Film Festival and Europe's leading expert on off tarmac routes in the Spanish Pyrenees. His map-reading events in Catalunya attract 200 riders a year, from all over the world.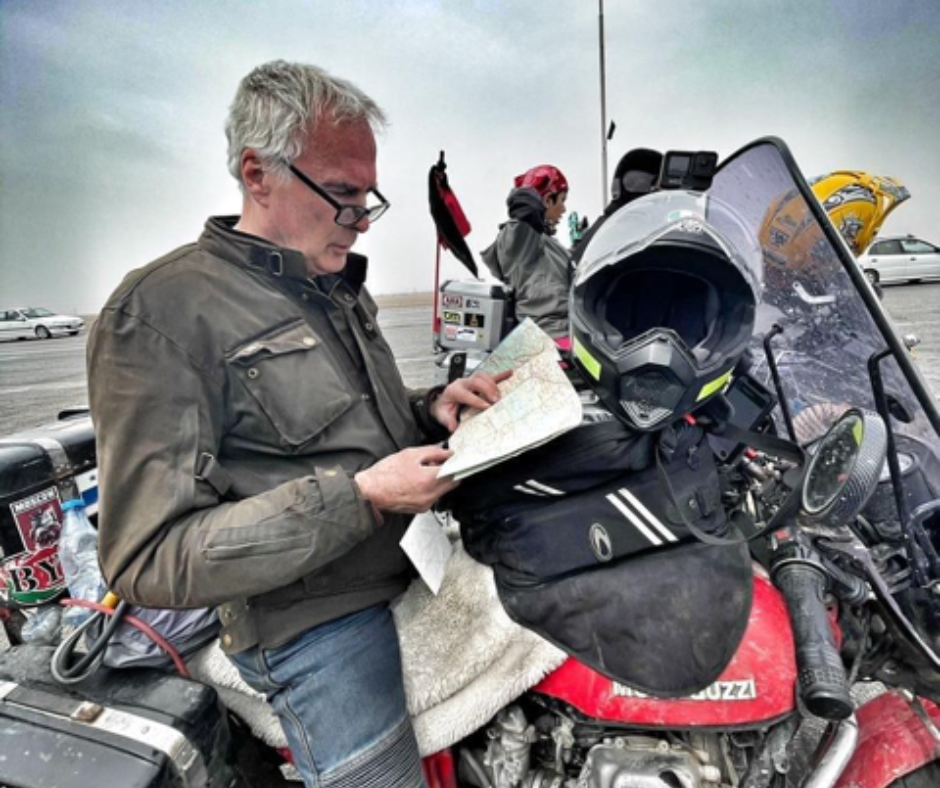 Chris Donaldson
Chris is a 64 year old biker from Belfast, and author of Going the Wrong Way. When he left Belfast in 1979 his plan was to ride his Moto Guzzi to Australia. He never made it, ending up in Argentina nearly 2 years later after travelling through Africa and North America. 42 years later in 2021, he decided to complete the journey to Australia on the same Guzzi. The Original trip still impacts his life to this day where he continues to go the wrong way whenever he can, and will be reunited with his Moto Guzzi in In Australia in March 2023 to continue the journey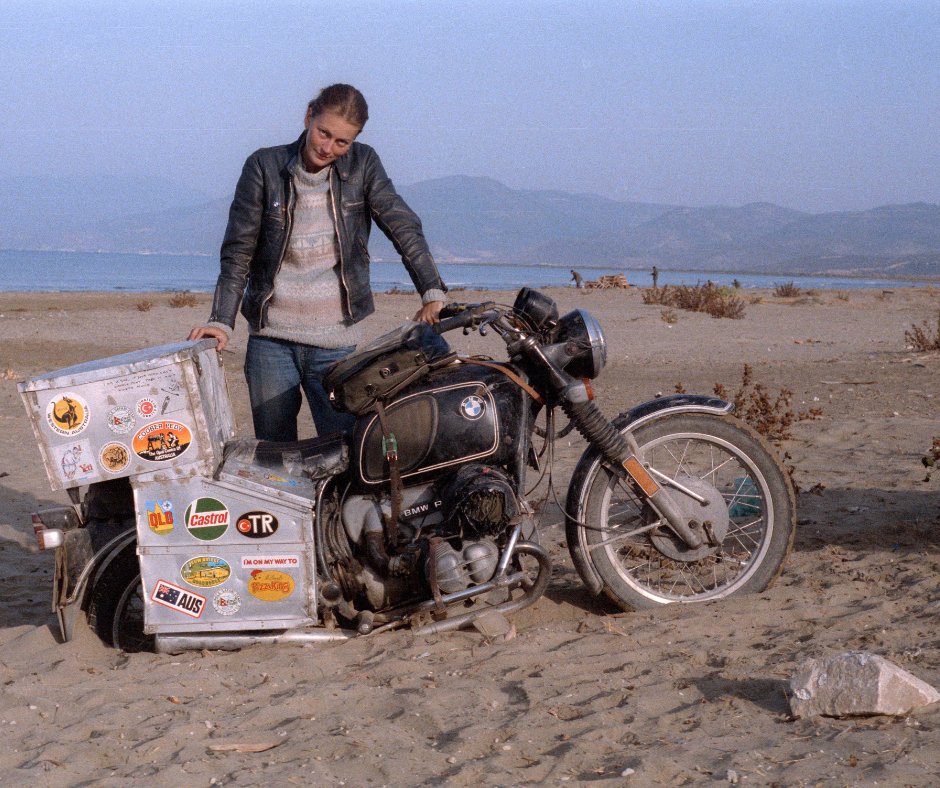 Elspeth Beard
Elspeth is a motorcyclist and award-winning architect. In 1982, at the age of just twenty-three, Elspeth set off on a 35,000 mile solo adventure around the world on her 1974 BMW R60/6, and became one of the first women to motorcycle around the world. Her book 'Lone Rider' is one of the most well known, motorcycle adventure travel books around and is a truly captivating read.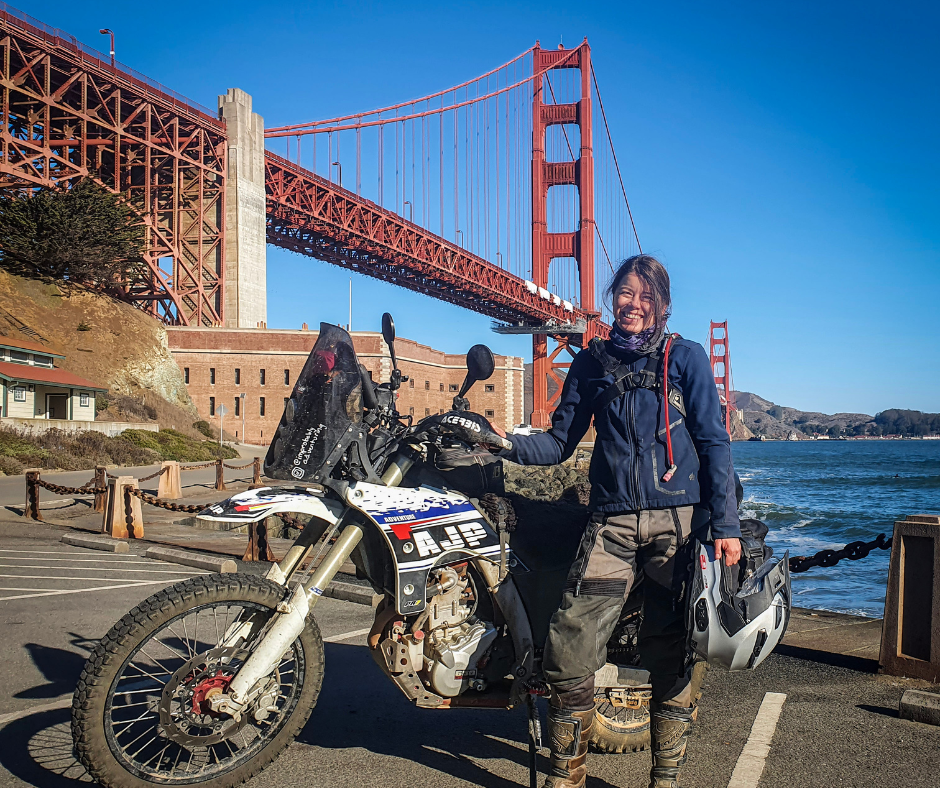 Heather Sinclair
Round the World adventurer Heather has ridden through 46 countries solo (so far), first on a Suzuki DRZ400 and then an AJP PR7. Heather has been travelling for the past 5 years, alternating between long term journeys and working in the IT industry here in London.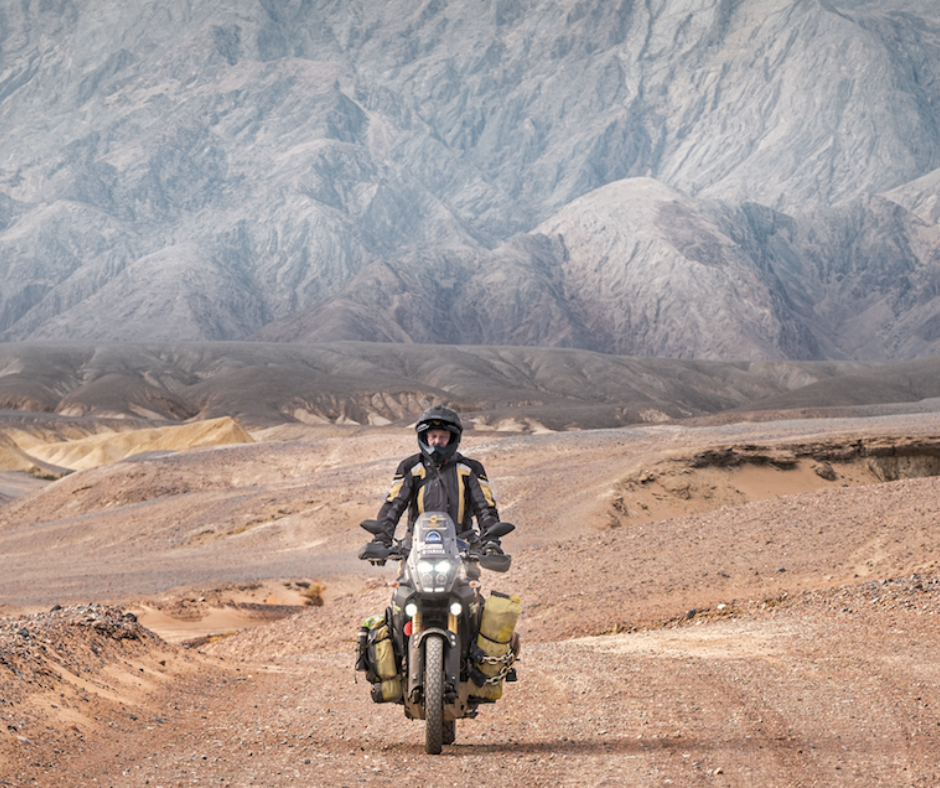 Nick Sanders MBE
One of the world's most experienced adventure motorcyclists, Nick has motorcycled a million kilometres and 7 times around the world, on the the 5th time he did it in just 19 days. He is the only person to have bicycled and motorcycled around the world. He has also motorcycled the length of the Americas 8 times, the fastest time in 21 days. Nick has written 15 books and made 70 programmes for TV. In 2019 Nick was awarded an MBE in the Queens Birthday Honours for services to Endurance Motorcycling and Cycling.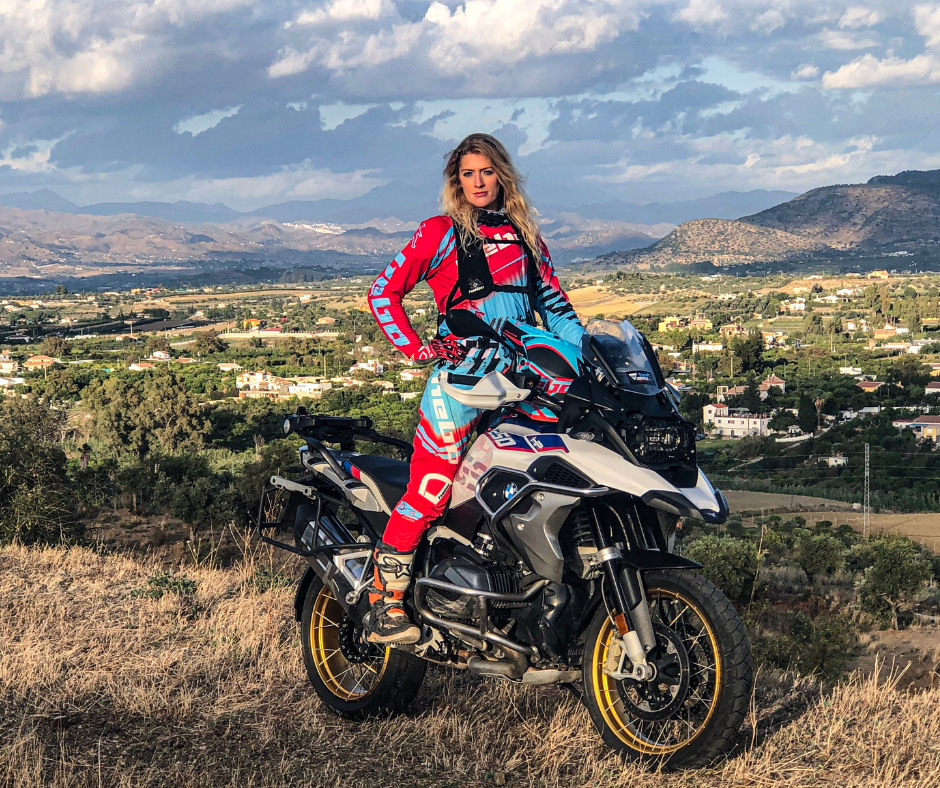 Vanessa Ruck
Otherwise known as 'The Girl on a Bike' Vanessa is an adventurer and presenter based in the UK. After a tragic accident on her pushbike followed by 7 years recovery, Vanessa discovered motorcycling and the thrill of exploring the world on them. From full blown desert rallies, to hard enduro and road touring, to knee down track days, and trials. If it's got an engine and wheels, Vanessa will be excited. As a force to be reckoned with, she's a rider, racer and adventurer living with ongoing pain, and is determined to make the most of every day despite her past, and help others do the same. Vanessa will be joining us with her energetic real life experiences following her life changing story from accident to becoming a rider and international racer.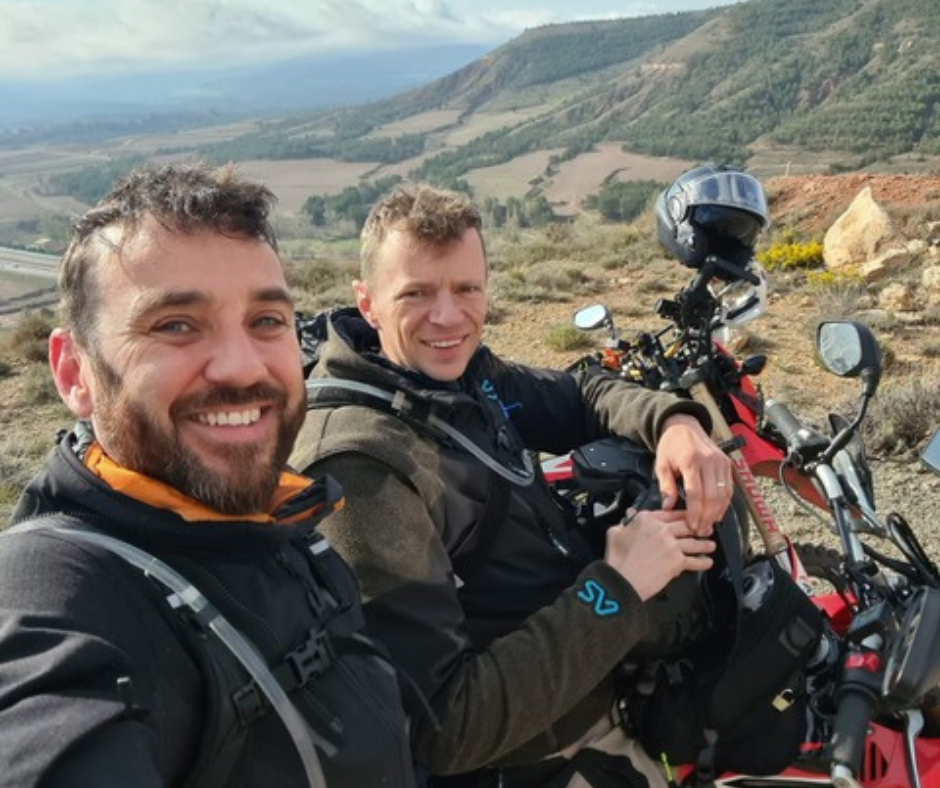 The Lightweight Adventurers
The Lightweight Adventurers started out in 2018, with just two regular blokes, filming for YouTube, what they loved doing...riding off road on their little Honda CRFs. With a combined 50 years in the military, both Marc and Jamie understand the value that being in a supportive community brings and with that in mind they started the Lightweight Adventurers, a group that aspires to bring people that think light, pack light and travel light, together. They have travelled extensively through Europe and UK racking up over 4000 miles in their last adventure to the deserts of Spain. They've even ridden to the Isle of Skye for a weekend from Lincoln, a 1700 mile round trip!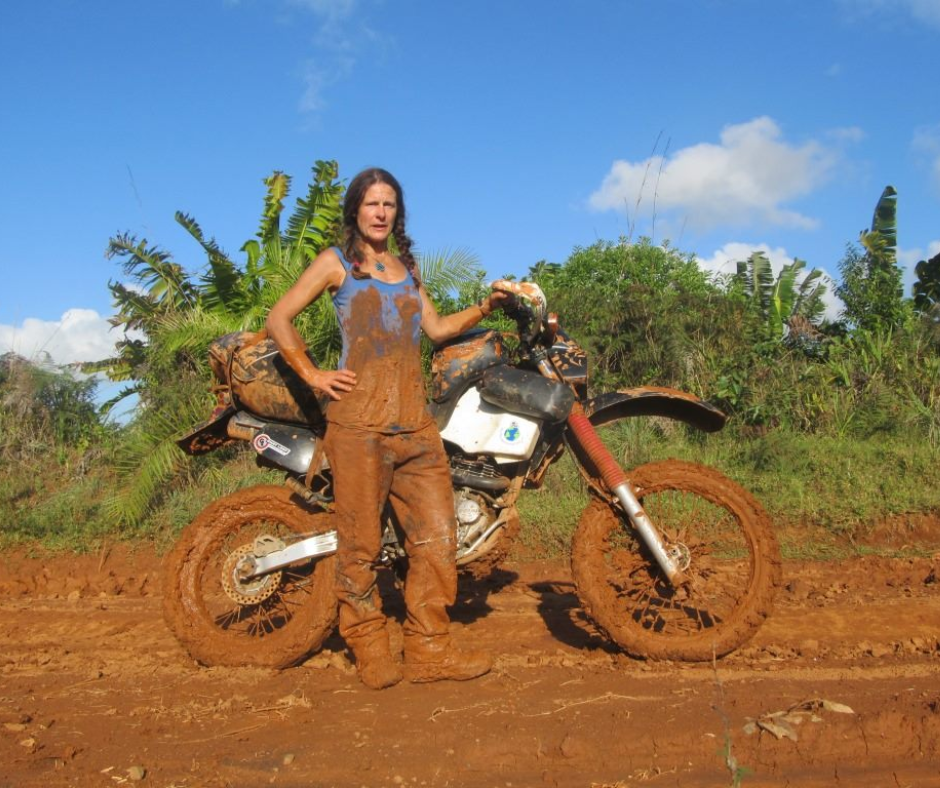 Tiffany Coates
Tiffany is the world's foremost female motorcycle adventurer having ridden over 300,000 miles, crossing every continent, some of them several times. She's travelled just about everywhere including Timbuctoo, Outer Mongolia, Tibet, Madagascar and Borneo. On most of her journeys, Tiffany has ridden her trusty 1992 BMW R80GS nicknamed 'Thelma', a bike she rode to India on with just two months riding experience. Riding adventures are Tiffany's passion, one that she also shares with others not only through her writing and incredible photography but also in her role as a freelance motorcycle guide, leading groups on intrepid journeys around the world.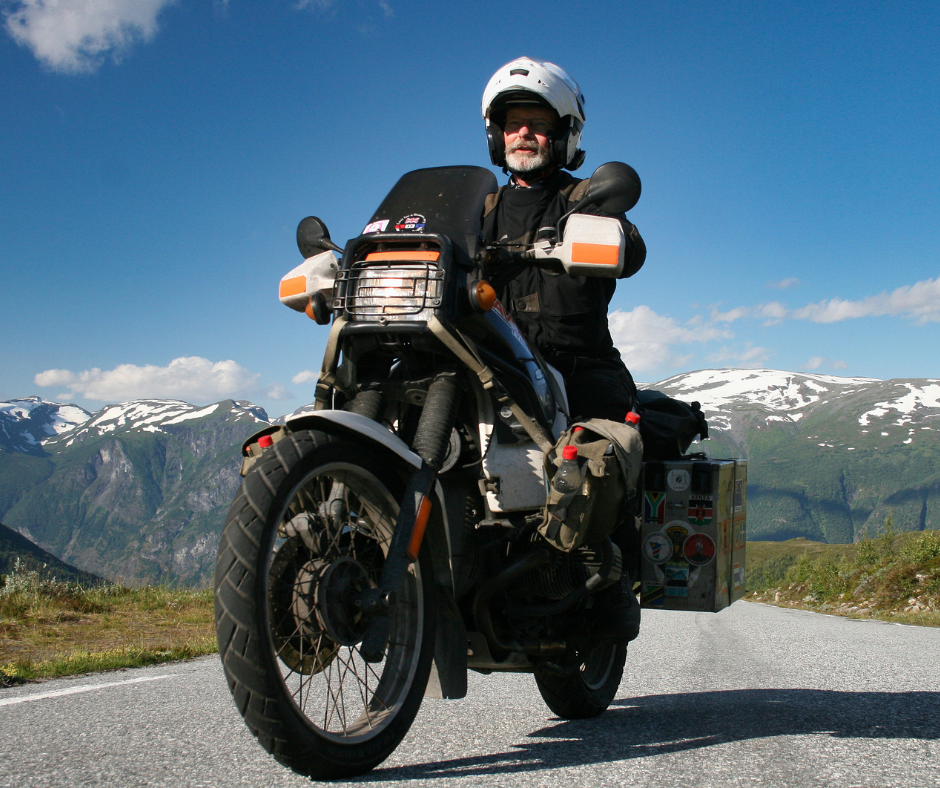 Sam Manicom
Motorcycle overlander and travel writer Sam Manicom was born in the Congo in Central West Africa where his parents worked. His family returned to the UK when he was 10, Sam has been travelling for most of his life. His first solo trip was age 16 by bicycle into Europe. His first major trip was a seat-of-the-pants 3 year backpacking voyage of discovery across Europe, India and Australia, which often saw him down to his last $10. What was needed, he earned along the way and this he says was a great learning experience.
Back in the UK, he decided that 'growing up' was what you were supposed to do and settled down into a career. But something was always missing. Wanting to do something completely different, Sam learned to ride a motorcycle and within 3 months of starting to ride, he set off to travel the length of Africa. This one-year trip turned into an 8-year around the world motorcycle adventure across 6 continents.
Sam now works full time in the world of adventure travel. He's a keen advocate of motorcycle travel in particular and when not writing his books, magazine articles and conducting multimedia travel presentations within Europe and the USA, he's very much involved with travel related organisations. Sam is a co-host for the monthly Adventure Rider Radio RAW podcast. His four books, Into Africa (Cairo to Cape Town), Under Asian Skies (Australia to Eastern Europe), Distant Suns (Southern Africa, and South & Central America) and Tortillas to Totems (Mexico, USA & Canada) vividly describe his epic 8 year 6 continent journey around the world.
Ted Simon said 'A unique and wonderful adventure.' Sam's books are available as paperbacks, on kindle and now as audiobooks. His latest book, published on February 19th 2022, is called The Moment Collectors and is a celebration of long distance motorcycle travel. Twenty travel writers have each contributed a chapter in which they share a skin-tingling high point moment from the road. Sam and his partner Birgit still travel regularly on their motorcycles, with their most recent trips being in the USA, Norway, Spain and Portugal, to Bosnia, and on hired motorcycles in farther flung locations such as Vietnam. His travel bike is a 1992 BMW R80GS which now has 278,000 under her wheels. He also owns a 2013 F800GS.